Are you looking for the best headset to use with your VoIP desk phone? Let us help you out!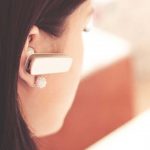 Atcom doesn't normally sell headsets directly. However, we're more than happy to make recommendations that set you up for success! In general we recommend Poly (formerly Plantronics) headsets if they are compatible with your phone. Use this link to Poly's excellent headset compatibility guide which will help you find the exact model you need: Headset Compatibility Tool
How do I Connect a Business Headset to my VoIP Desk Phone?
Most wired headsets connect directly to your VoIP phone. The connector will either be a typical "telephone style" RJ11 jack or a 3.5mm/2.5mm headphone jack. A USB headset can even be connected straight to the phone in some cases (for example, the Yealink T54W). The Poly compatibility guide should help you determine exactly which type of cord you need.
When it comes to wireless headsets, most VoIP phone makes & models require a special device to work properly with the headset. Incidentally, these are known as EHS (electronic hookswitch signaling) adapters and it's important to know which model you need. The best resource to check would usually be the telephone manufacturer's website. Here is a short list of common EHS adapters:
Avaya J-series: Poly APV-63
Cisco 8841: Poly APC-43
Yealink: Yealink EHS40 (selected Yealink models only)
Grandstream: Poly ADP-80 (selected Grandstream models only)
Poly VVX: Poly APP-51
Non-EHS Phones: use the Poly HL10 handset lifter
Bluetooth Headsets with VoIP Phones?
Certain VoIP phone models have the ability to connect to a Bluetooth Headset. The Yealink T54W has Bluetooth functionality built in, while the Avaya J179 requires 700512402 Bluetooth Module to enable the functionality. Other Bluetooth capable models include Cisco 8851/8861, Grandstream GXP2160, & Fanvil X7A Android VoIP Phone.
The ability to use Bluetooth headsets comes with some major advantages:
Cost is much lower – quality Bluetooth headsets are around $120, quality wireless desk phone headsets are around $350.
Easy charging – most Bluetooth headsets can be charged with standard USB cables. Wireless desk phone headsets typically have a special base for charging.
Fewer cables – no EHS cable is required for Bluetooth headsets.
We hope this information helps you on your telecom journey!