Frequently Asked Questions: VoIP Phones for Business
Are you researching the best VoIP Phones for your business?
VoIP Phones used to be an option for large companies that needed to transfer call to more than one building. However, since about 2016 in Canada, VoIP Phones have become the primary type of telephone deployed for business. There are many advantages to VoIP Phones over traditional Digital Phones that we will discuss in this article.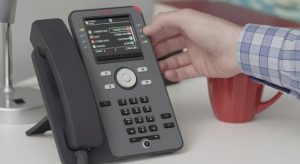 1. What are Business VoIP Phones?
Business VoIP Phones are a class of telephone that rely on computer networks to communicate with the outside world. Traditional digital or analog telephones required a dedicated pair of copper wires to communicate with the central unit, or PBX. But newer central units either don't exist on your premises at all (Hosted PBX or Cloud PBX) or are a hybrid model that can communicate with both digital and VoIP telephones.
2. What Happens with VoIP Phones When the Internet Goes Down?
That depends. If you have an on-premise PBX with traditional analog or PRI lines, the internet does not affect your internal VoIP Phones. Alternately, if you have a hosted PBX type system, internet is the link between the "brains" of your system (in a data center somewhere) and the telephones in your offices or remote locations. In this case most hosted PBX systems invoke call forwarding rules that send incoming calls to backup cell phones or other landlines. Therefore the worst case scenario is that callers end up in your voicemail which is normally emailed to you ASAP.
Another advantage of VoIP Phones is that a backup internet connection can be provisioned. Doing so results reduces potential down time and ensures your business is always available! In addition, VoIP Phone provide great disaster recovery options in terms of working from a backup site or even simply using mobile devices.
3. Do VoIP Phones Have Good Sound Quality?
Usually, yes. In some cases a given internet connection is too sporadic to provide decent voice quality. The good news is that this issue is easy to fix – simply setup a dedicated low cost DSL type connection and ensure your telephones communicate via the dedicated connection. Usually this is accomplished using VLANs in your network switches. VoIP quality issues such as audio drops, jitter, hangups etc. have decreased significantly of late thanks to far better back end equipment at the ISP (Internet Service Provider) level!
4. How Much Bandwidth Do VoIP Phones Consume?
There are 2 CODECs that VoIP phones typically use: G711 (also known as Ulaw) and G729. G711 consumes about 100 Kbps of simultaneous upload and download bandwidth once you factor in the IP overhead traffic. G729 is a compressed CODEC and consumes about 30 Kbps once the IP overhead is accounted for.
5. What Type of Wiring Do VoIP Phones Require?
Practically any modern VoIP phone includes a built-in gigabit network switch. Therefore a single Cat5e or Cat6 cable will service both your phone and your computer. In addition to network signal, power is also required for VoIP Phones. Power can be delivered via POE network switches (optimal) or plug-in power adapters right at the phone (less optimal).
Older telephone systems utilized Cat3 twisted pair cabling. Be aware that any phone locations that don't have a hardwired PC may need the cable upgraded from Cat3 to at least Cat5e. This will, of course, incur additional cost.
6. How Much Do VoIP Phones Cost?
The purchase price for VoIP desk phones usually ranges from about $100 CAD for entry level models up to $300 CAD for high end models. In addition, VoIP Phones can often be rented instead of purchased. Renting provides a number of benefits:
Low up front cost
No asset depreciation to deal with
Forever warranty – replacements for defective units are typically provided at no cost
The rental costs are usually included on the same monthly bill as your VoIP Service
7. How Do I Choose the Right VoIP Phone?
The first step is to identify your needs. Here are some of the questions to ask yourself:
Do I use speakerphone? If yes, the budget models may not be your best choice.
Would more speed dial buttons increase my productivity? Bear in mind that time savings can be exponential – especially if you dial the same 5 or 10 numbers often!
Would it be helpful to see co-workers who are on the phone? More programmable buttons usually mean you can assign BLF (busy lamp field) keys to see who is on the phone.
Will I be connecting a headset? If so, make sure you know what type of headset the particular models require (Bluetooth, USB, RJ11, etc.)
Wondering how to get started? We'd be happy to discuss options and answer any remaining questions you may have! Contact Atcom today.