Best VoIP Phone System Provider
Atcom is a leading telecommunications provider that's been serving communities throughout Southern Alberta for over 48 years. Our track record has earned us the trust of communities throughout the region, and most recently won us the honour of Consumer Choice Award for Telephone Systems, Sales and Services in Southern Alberta Area. Watch our video on Youtube
The Award
The Consumer Choice Award is an annual awards program that recognizes businesses in over 50 markets across Canada. CCA winners have been voted by consumers as their favourite in a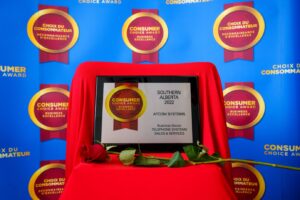 given category. CCA informs us that we're the only ones to have ever won in our category! According to CCA research, Southern Albertans trust us more than anyone to provide them with excellent service and products.
Atcom is extremely proud to have won this award, and sees it as a testament to our commitment of providing the best possible business VoIP experience for our customers.  We will continue to work hard to earn your trust and business, and hope that you'll continue to support us as we grow.
Why Atcom Gives the Best VoIP Service
Atcom is more than just a phone company. As your partner in business, we're committed to helping you stay connected to what's important. Therefore we offer a wide range of services designed to keep you connected to your customers, employees, and the world. From our reliable and affordable phone service to our high-speed internet and data solutions, we have the products and services you need to stay connected and competitive. Our commitment to customer service ensures that we'll be there when you need us.
Atcom is proud to be a part of the Southern Alberta community. We look forward to continuing to serve our customers for many years to come! Please don't hesitate to contact us if you have any questions or need assistance with anything. We're here to help, and we're always happy to serve.