Our Thoughts on the New T33G VoIP Phone
So far we've been quite impressed with the new Yealink T33G VoIP phone, and the price point would please anyone! This business grade SIP endpoint packs a punch far above it's weight class 😉 Here are some of the key specs:
320×240 2.6″ colour display
12 programmable keys (multiple pages)
4 softkeys
G711 (ulaw & alaw), G729, G722, & Opus codec support
Gigabit ethernet
5 way conferencing
Real World Performance
As we ran the phone through it's paces on our test bench it performed exceptionally well. The T33G comes with most of the features available on it's big brother, the T54W. Hold, Transfer, juggling multiple calls, etc. all worked perfectly as expected. Sound quality was great – this phone appears to have the exact same HD audio handset as the T54W. Most of the XML configuration settings we tried work that same on the T33G as they do on the T54W. I suppose the only complaint a person could come up with is the smallish screen size, but you can't expect a huge screen on a budget phone!
One item that was particularly impressive is the ability to create and manage a 5 party conference call. Many other (much higher priced) VoIP telephones are quite limited in this department. Most only allow 3 way conferencing, and precious few allow management of the conference from the telephone itself. The T33 not only makes it easy to conference a combination of incoming and outgoing calls, it also allows you mute or disconnect participants with the push of a button. Here are a couple screenshots to demonstrate: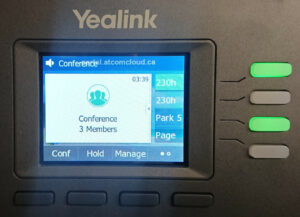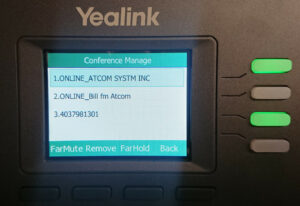 Verdict
We rate this phone a buy! With an MSRP of $144.97 CAD we see great value. Chances are decent of finding the T33G for an even better price if you shop around online. Atcom plans to offer a monthly rental price around $4.45 when used with our cloud VoIP system.